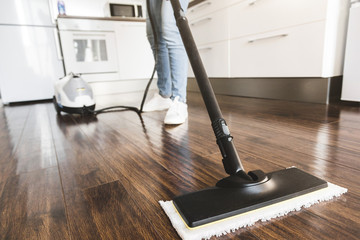 Best Steam Mop With Disposable Pads Reviews
Cleaners Talk is reader-supported. This post contains affiliate links, we may earn a commission at no additional costs to you. As an Amazon Associate we earn from qualifying purchases.
Top 3 Steam Mops With Disposable Pads
You won't find plenty of steam mops with disposable pads, because most steam mops available on the market come with washable pads. That being said, I've found 3 steam mops with disposable pads:
1. Bissell Symphony Steam Mop Vacuum
Without a doubt, the best steam mop with disposable pads is the Bissell Symphony. It comes with 4 disposable pads that you can use to clean messes that you would rather throw away immediately.
The best part is, you can use a disposable Swiffer Pad with this steam mop. Kudos to Bissell. They had the foresight to team up with Swiffer so the customers can enjoy the convenience of disposable pads.
Most steam mops only use reusable mop head covers. Maybe that's all you want to use, but I think having the option to use a disposable pad is brilliant. I use the disposable pad on the Bissell Symphony for disgusting messes that I would rather throw away (like pet urine, poop, or children's vomit).
Don't feel like washing the steam mop pad because your dog has decided to mark the couch leg with his urine? No problem. Just snap on a disposable pad and toss it in the trash bin when you're done!
I really like the disposable pad because it's great for a quick clean up of the kitchen floor after dinner, but it can also do a large area before running out of steam for when you need to clean every floor in the house.
Additionally, the Bissell Symphony comes with 8 packs of odor-eliminating discs. All you have to do is to insert the disc into the mop pad. It helps to remove the smell of pet odors while steam cleaning.
It's rare to find a steam mop and vacuum cleaner combo, and the Bissell Symphony is simply one of the best. If you're looking for the best steam mop with disposable pads, look no further and buy this machine.
2. Shark S1000 Steam Mop
If you're looking for an affordable option, the Shark S1000 steam mop is a solid choice, especially for the price. I can clean my entire house (about 900 square feet) with half a tank of water. The cord is 18-feet long, which is okay, because I only had to change outlets between rooms.
A large area of my house is covered in glossy tile floors, which show every bit of dust and every streak of dirt. What a difference this steam mop made, as it picked up dirt I didn't know was there.
Much to my surprise, the steam mop pad always got so dirty after a cleaning session. This is because my family and I walk around the house with shoes on (although I vacuum once every 2 days).
The best part is that the mop pads are disposable. Sure, you can use the right techniques to clean steam mop pads, but I can never get the pads completely clean. Disposable pads just saves so much time.
Once the mop pad is soiled, I recommend buying replacement pads from the Turbo Microfiber store. This product in particular is thicker and better than the mop pad that comes with the Shark steam mop.
The mop pad that comes with the Shark steam mop is good, but the replacement pads from the Turbo Microfiber store have some heft and nubbyness to them! This means they provide gentle scrubbing action.
When the package came, I saw a small thank you card. I had no idea that I had ordered from a family small business. I appreciate the kind gesture and that is why I recommend the Turbo Microfiber store.
They're also affordable. You'll get 4 high-quality microfiber pads for just $13.85. Now that's what I call a good deal. This is why I love a steam mop with disposable pads because they're convenient, but not expensive.
3. PurSteam Steam Mop
Lastly, the PurSteam is a versatile steam mop with disposable pads. It transforms into a handheld unit and is capable of cleaning a variety of things, including clothing, kitchen countertops, toilets, and windows.
I think the PurSteam steam mop's adjustable modes help you cater the mop's steam level to your specific needs. That's especially important when you're trying to preserve something delicate, like hardwood floors.
The PurSteam comes equipped with a 380 ml (12.8 oz) water reservoir that provides around 25 minutes of steam at the lowest setting and about 12 minutes of steam at the maximum steam setting.
One real bonus is that it uses tap water alone to steam off dirt, eliminating the need to buy pricey detergent. In fact, you should never add anything else other than water to a steam cleaner.
When you buy the PurSteam steam mop, you'll get 3 replacement pads. The mop pads are reusable, but I like to use them as disposable pads because I don't feel like washing soiled pads.
If you need replacement pads, I recommend buying from this supplier because they provide the same high-quality steam mop pads at a fraction of the price. For just $20, you'll get 10 pads ($2 each).
For the same item, you would have to pay $15 for 3 pads ($5 each) from the original supplier. Because the quality is the same, you can consider this PurSteam as a steam mop with disposable pads.
Overall, the PurSteam is a solid choice for a steam mop with disposable pads. It's also one of the few steam mops that comes with a scrubber tool. Considering its inexpensive price, the PurSteam is a bargain.
Final Verdict
And there you go, three of the best steam mops with disposable pads. Using a steam mop with disposable pads saves so much time because you don't need to keep washing the pads over and over again.
Related articles:
Ryan O'Connor
I write about house cleaning and vacuum cleaners. For me, nothing is more important than a clean environment to ensure both a healthy and happy life. Learn more.