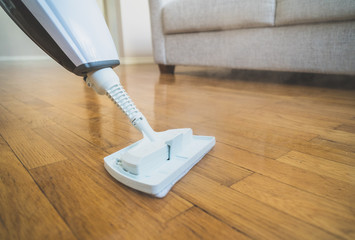 Are Steam Mops Good for Hardwood Floors? (Read First)
Cleaners Talk is reader-supported. This post contains affiliate links, we may earn a commission at no additional costs to you. As an Amazon Associate we earn from qualifying purchases.
Whether you have young kids, pets, or a messy partner, sometimes you need a cleaning tool with more power than a broom but not as messy as a mop. That's where steam mops come into play. By heating water to almost 250 degrees Fahrenheit, steam mops help remove pesky dirt and sticky spots from floors.
But as you eye the mess on your hardwood, it might make you wonder—are steam mops safe for hardwood floors? Sadly, you should avoid using steam mops on hardwood floors.
We'll help you understand why by explaining the science behind it, alternative options for cleaning your hardwood, and the surfaces you can and can't use your steam mop on.
Does a Steam Mop Damage Wood Floors?
Yes, steam mops run a high risk of damaging wood floors. Although you won't be soaking your floor in water, which most of us already know would be bad for hardwood, it's an uneven drying and fast hot and cold change that could end in an expensive new floor remodeling project.
In a study performed on hardwood warping, lumber that they predried to a 27% moisture content had less warping than their more rapid kiln drying method.
The reason for this is likely because hardwood warping happens when the moisture content dries unevenly. So, when you steam mop your floor, you'll inevitably run the mop over only a portion of certain pieces of wood, coming back to clean them on the next swoop as you work.
However, this gives some pieces of your hardwood floor time to begin drying while you haven't even mopped other parts of the same wood yet. So, this uneven drying can cause warping.
Furthermore, steam mops damage wood floors because they cause the wood to heat up rapidly. Then, since you pass the mop over the floor quickly, the wood soon cools back to room temperature.
If you've ever had the experience of a wooden door being harder to open in the summer than in the winter, it's because wood expands in heat and shrinks in cold temperatures. So, this back and forth warming and cooling can cause a damaged floor if you use a steam mop.
Compounding a Steam Mop's Negative Consequences
Although you shouldn't use a steam mop on wood floors, occasional use may not damage your floors, especially if they have a sealing. However, if you put anything but distilled water into your mop, you risk damaging your hardwood from the chemicals in cleaning solutions.
Therefore, regardless of where you use your steam mop, only fill it with distilled water. If you use tap water, you could end up with a damaged wood floor and mop, given that mineral deposits found in tap water like calcium and magnesium can harm steam mops.
Alternatives to Steam Mops on Wood Floors
Now that you know the answer to the question, "Are steam mops safe for hardwood floors?" is "no," below are some better options for cleaning your wood floors:
Dust mop
Broom
Vacuum cleaner
Once you do an initial clean with one of the items above, running a standard mop with room-temperature water over your wood floors is okay. However, to reduce the risk of damaging your hardwood, make sure to squeeze the mop well so that it's damp and not dripping with water.
You should only use a damp cloth for wood floors with a surface-penetrating sealer, as you'll have better control over spot-treating areas that need cleaning without exposing your entire floor to dampness.
Other Unsafe Surfaces for Steam Mops
Although people often think of hardwood when they hear the words "wood floors," the reality is that several types of flooring contain wood properties. You should avoid using steam mops on the these types of floors:
Laminate makes this list because it contains fiberboard. Furthermore, its plastic surface could deteriorate under the heat of a steam mop. But that's not the worst of it—the Centers for Disease Control and Prevention found that some laminate flooring from China contains formaldehyde.
As a result, some people suffer from breathing issues due to their laminate floor, and using a steam mop could circulate more of this dangerous chemical in the air.
Linoleum is another wood-based flooring, as it has wood particles and linseed oil, which is a common wood preservative. So, the wood and porous nature of linoleum flooring make it susceptible to high heat.
Although ceramic and porcelain don't contain wood, you should opt to use a sponge mop on them rather than a steam mop, as heat can change grout's chemical makeup.
The Vinyl Exception
If you're familiar with vinyl flooring, you know that this seemingly plastic type of flooring has wood particles on its backing. The good news is that because vinyl contains such a massive amount of plastic that protects it, you shouldn't have to worry about a steam mop's heat damaging this type of flooring.
Nevertheless, we encourage you to read your steam mop's instructions, no matter what type of surface you are trying to clean. It should say whether the mop you have is safe to use on vinyl floors.
The Best Steam Mops For Hardwood Floors
So, are steam mops safe for hardwood floors? No, they usually aren't.
Nevertheless, steam mops are a helpful cleaning tool to keep in your house for occasions when other floor materials have sticky, hard-to-clean residue. Below are some of the recommended steam mops.
1. Bissell PowerFresh Slim 2075A
The PowerFresh Slim is the most expensive steam mop on this list, but we love it because you can use it on hardwood floors as long as they have a sealing. It also has a steam trigger to allow for more steam control.
2. Bissell PowerFresh Deluxe 1806
The PowerFresh Deluxe is a more economical take on the Slim, removing 99.9% of germs and bacteria and heating up in only 30 seconds. It has an on-board spot boost brush to remove tough, sticky messes.
3. Shark Genius Steam Pocket S5003D
The Steam Pocket is a mess-free steam mop that has a button that'll release the unused pad without you touching it. Its grip material ensures dirt remains in the pad when removing grime from your floor.