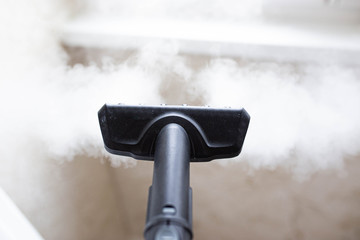 Best Steam Cleaner/Mop Under $200 (Affordable Options)
Cleaners Talk is reader-supported. This post contains affiliate links, we may earn a commission at no additional costs to you. As an Amazon Associate we earn from qualifying purchases.
Top 3 Steam Cleaner/Mop Under $200
The best steam cleaner/mop under $200 can help you clean messes from a variety of different surfaces and sanitize your house efficiently without you having to dig deep into your wallet and break the bank.
I've separated each product based on the category. The first option is the best overall, the second option is the most complete, and the third option is the most lightweight. Here are the top 3 steamers under $200:
1. Best overall: Wagner Spraytech Steam Cleaner
The best steam cleaner under $200 is definitely the Wagner Spraytech. Although it's designed for indoor use, the machine is capable for commercial use like auto detailing. It also has a unique feature to help you strip old wallpaper effortlessly (using its large wallpaper steam plate).
Heavy duty (although it's made for indoor use)
Some machines are not built for commercial use. The Wagner Spraytech, however, is more than capable for commercial use, especially auto detailing, even though it is designed for gentle, indoor use.
As an owner of a busy auto detailing business, I sincerely wish I had purchased this years ago. Not only does the Wagner Spraytech have many uses/applications, but it also saves time and effort.
The pressurized steam is strong enough to clear away layers of grime in seconds using only water. It definitely reduces the amount of cleaning products I have used. This saves me money spent on cleaning products and reduces my exposure to harmful ingredients used in such products.
I chose this particular machine based on the very low price and the automotive attachments included. I can detail an entire vehicle (inside and out, moderately filthy) only having to refill the water reservoir once.
The compact size is surprisingly great for auto detailing, even in shop uses. It is easy to move around thanks to its small size. After about 3 months of using this steamer for cleaning over 30 vehicles and cleaning my home, the Wagner Spraytech has always been consistent and never gave me any issues.
A unique feature for stripping wallpaper
Looking at the Wagner Spraytech's product page, one feature caught my eye. It says that this steamer gives you the ability to strip wallpapers easily. Never have I seen this feature on other steamers.
After buying this machine, I put it to the test. With the large wallpaper steam plate, I was able to easily strip wallpaper with no harsh chemicals needed. Additionally, the 8-foot steam hose provides great length for reaching tall walls while stripping the wallpaper.
Folks, you never know what you'll find under old wallpaper. I've removed my old condo's wallpaper and found big holes, plywood walls, wood paneling, etc. This machine literally saved me. Overall, it tears up even the toughest wallpaper like it's nothing.
2. Most complete: McCulloch MC1375
For a steam cleaner under $200, the McCulloch MC1375 is the complete package. It naturally deep cleans without the use of harsh chemicals using hot, pressured steam to eliminate grease, grime, and stains.
Many accessories and large water tank
What I like about the McCulloch MC1375 steam cleaner is that it comes with 20 versatile accessories. It is equipped for steam cleaning jobs in and around your home including a floor mop, mop pads, nylon brushes, brass brush, angled nozzle, scrub pad, scraper, squeegee, and more.
Additionally, the MC1375 comes with a large 48-ounce water tank. Most steamers won't give you the ability to blast steam for a long time, but thanks to the MC1375's large water tank, it steams for 90 minutes.
The water tank heats up quickly in just under 12 minutes despite its large size. In fact, it often heats up in under 10 minutes even when filled with ice cold water. It maintains pressure well even after extended use.
Variable steam control
The McCulloch MC1375 gives you the ability to blast away dirt and grime with the on-demand variable steam control. Basically, it allows you to dial in a precise steam flow to whatever you're cleaning.
There is also a steam lock for continuous steam. It allows you to deliver a consistent flow of pressurized steam without having to press the trigger. At its peak, the MC1375 delivers 58 PSI steam pressure.
I really enjoyed using the "jet nozzle" accessory because it made cleaning the grout a breeze. I also used it to sanitize around the toilet, sink, and countertops. The "mop" on the other hand was excellent at removing sticky spills, dirt, dried mud, and anything else that was on my floor.
For indoor use only (not for commercial)
I use the McCulloch MC1375 for indoor use (in and around my home), but I also have tried using the same machine for auto detailing. I've been using the MC1375 for over 9 months and over 100 hours of use.
To be honest, I think that the MC1375 is a little underpowered. Stronger steam pressure would be useful on tougher surfaces, but the MC1375 often struggles on air vents and greasy seat posts.
Sure, the extra-long 18-foot power cord and 10-foot steam hose is great as it provides added maneuverability and reach for hard-to-reach places. However, the hose does not seem to be durable enough to hold up under heavy detailing use based on my experience.
When detailing car interiors, you have to bend and contort not only your body but also the hand held steamer to reach all the tight areas. This puts a lot of bending and twisting pressure on the hose.
After about 8 months of use, I noticed that the protective hose exterior failed right behind the handle. A few weeks later it failed again where the hose attached to the boiler.
Granted, the McCulloch MC1375 is designed for indoor use, not commercial use. So if you're looking for a steam cleaner under $200 for your home, the MC1375 is more than enough for the task.
But here's where it gets interesting. The customer service is nothing short of amazing. I am completely impressed at how McCulloch delivers on its promise to provide its customers with total satisfaction…
After reaching out to the company to purchase a new replacement hose, they informed me that they would replace the entire machine completely free. After sending the required photo, I got a brand new unit sitting on my doorstep in just 2 days. I was blown away by the responsiveness of McCulloch.
Kudos to the customer service at McCulloch. When you choose a McCulloch product, you're investing in superior performance and design that will deliver total satisfaction. If not, they'll replace it, for 2 years. Supported by a customer service team based in Andover, KS.
3. Lightweight steam mop/cleaner combo: Bissell Power Steamer
The Bissell Power Steamer is another great option for under $200. It's incredibly versatile because you can use it either as an upright steam mop with a long handle, or as a shorter handheld mode for more precision.
Complete and versatile
The handheld pod is the main body of the unit, housing the motor and water tank. It is also where you attach all the attachments. The extension wand connects easily to the main body of the steamer.
Once the extension wand is connected, you can attach the mopping foot and microfiber pad to steam mop floors. The microfiber pad is actually big enough to cover a large area all at once.
There is also a flat surface tool, which basically is a smaller mopping pad. This tool is perfect to use in handheld mode and works great to clean smaller flat surfaces like kitchen countertops.
The fabric steamer connects to the extension wand or the main unit. You can combine it with the fabric steamer cloth (machine washable) to clean clothing, sanitize upholstery, and deodorize drapes or mattresses.
There is a squeegee tool to clean glass surfaces. Then there's an array of small precision tools. The small brushes work great to scrub dirt from nooks and crannies, as well as clearing grime out of grout lines.
In fact, the Bissell Power Steamer is one of my favorites, not just as an affordable steam cleaner, but because it is one of the rare steam mops that comes with a scrubber tool. It makes everything so convenient.
While the cord is long, it's better if it's cordless
The Bissell Power Steamer comes with an extra long 25-feet power cord. This extra long power cord is rated for indoor and outdoor use, maximizing the cleaning coverage in and around your home.
However, I personally prefer a cordless steamer, especially if the machine is handheld. It's a hassle to plug a device to an electrical outlet when I need to clean up a small mess quickly.
Sure, using a corded steamer means that you will enjoy a more consistent steam pressure, but I personally would rather have a cordless handheld unit because I can bring it anywhere without looking for an outlet.
The Bissell Power Steamer is amazing in my opinion, but it would have been better if the device is cordless. All I have to do is to turn the machine on, wait for it to heat up, and get cleaning.
That being said, the choice is up to you. The Bissell Power Steamer is one of the best steamers under $200. If you don't mind having to plug it into an outlet, this device offers the best versatility and power.
Final verdict
And there you have it, the best steam cleaner and mop under $200. Contrary to popular belief, there are plenty of steamers under $200 that are not only affordable, but are made with top quality.
Related articles:
Ryan O'Connor
I write about house cleaning and vacuum cleaners. For me, nothing is more important than a clean environment to ensure both a healthy and happy life. Learn more.