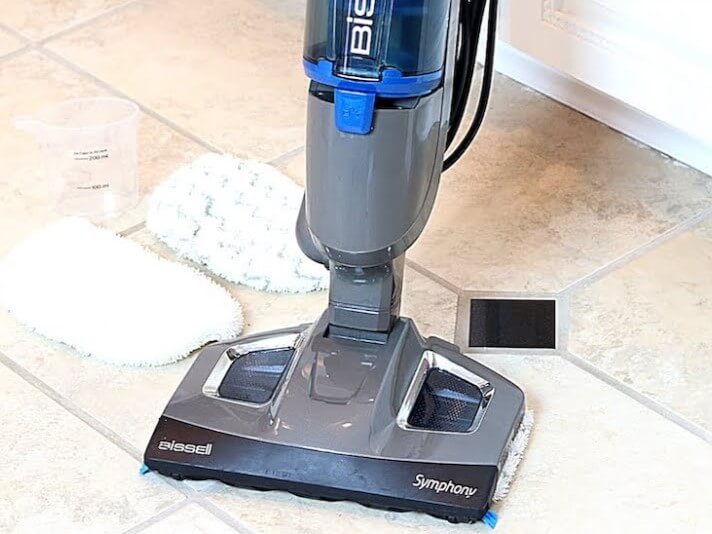 Best Steam Mop Cleaner With Vacuum Combo 2022
Cleaners Talk is reader-supported. This post contains affiliate links, we may earn a commission at no additional costs to you. As an Amazon Associate we earn from qualifying purchases.
Top 3 Steam Cleaner and Vacuum Combo
I was vacuuming my floor, preparing to steam mop it, when it me: "why wasn't there a device that vacuums and steam mops at the same time?" I did my research and found the top 3 steam cleaner and vacuum combo:
1. Bissell Symphony Pet Steam Mop and Vacuum
When the product arrived, I was very happy because the box was very heavy. It's no surprise because there is a vacuum cleaner built into the steam mop. The truth is, all that weight is the packaging (the external box from Amazon and the actual Bissell packaging). The actual product is not too heavy which is great.
Gives you complete control of the steam
One of the things I like is the steam is not automatically on all the time. Unlike most steam mops, the Bissell Symphony Pet has a little trigger button in the handle that you hold down to release the steam.
Some people may not like holding down the trigger, but it's inside the handle so it feels natural to hold it down. If you don't want steam to come out, just take your finger off the trigger. It's that simple.
Additionally, there are buttons to adjust between the low and high steam located on the handle. I think this is very convenient because you can completely control the steam output just by pressing a button.
The Bissell Symphony Pet has two steam levels (low and high), but the level of contrast between them is perfect as I have never found myself wishing for a third steam level with this machine.
The vacuum on and off button is independent of the steam button and vice versa. This gives you the ability to steam whenever you want and vacuum whenever you want, which I think is amazing. 🙂
Steams and vacuums all at once
So, the big question is, how does it clean? Whenever you have kids or pets running around the house, you'll often find dirt, fur, and little bits of pieces laying around the floor. This machine is perfect for the job.
I think it's absolutely brilliant to be able to steam mop and vacuum at the same time. Should you find a piece of dirt on your floor that you need to immediately get rid off, all you have to do is to take your finger off the steam trigger, vacuum it up, and then start steaming away again!
One important thing to note is that this Bissell machine is one of the rare steam mops with disposable pads. A disposable pad is designed for disgusting messes that you'd rather throw away and not reuse again.
The design of the handle is perfectly designed because it can be adjusted to go under tables or beds. You never know what could be hiding under the furniture of your house, and no dirt can hide from this machine.
Convenient (easy to use)
Bissell made it super easy to add water to the machine. You can even do it while the machine is standing upright. All you have to do is to open the tank's cover on the back of the unit and pour the water in.
With most steam mops in the market, you have to lay the machine on its side (on a counter or table), unscrew the cap, and then use a funnel or else pour the water in very slowly because the opening is so small.
I also like the fact that the Bissell Symphony Pet is free-standing. Basically, it will actually stand upright on its own if you need to rest while cleaning or when you need to store the machine.
Based on my experience with steam mops, either they have to be secured or hung. Should you choose to rest the machine against a counter or a wall, you need to be very careful with it. Most steam mops do not lock into an upright position - the head always swivels. This is what makes the Symphony different.
2. Bissell 2747A PowerFresh All-in-One Vacuum and Steam Mop
Coming at a close second is the Bissell 2747A PowerFresh. This vacuum and steam mop machine is a game-changer because it saves you so much time. However, it's not as good as the previous product.
Cleans floors effortlessly
I've been considering a steam mop with vacuum combo because I've had luxury vinyl floors installed on my home. After about a year of using a mop and bucket, I've decided to try the Bissell 2747A PowerFresh.
Much to my delight, I think this machine cleans and sanitizes my floors extremely well. The fact that it can vacuum and steam at the same time is incredible. It just saves me so much time to be able to do both.
The vacuum power is comparable to a decent stick vacuum but falls short when compared to a high-end upright vacuum. Still, the suction on the vacuum is strong enough and I think it's convenient because I can steam mop and vacuum at the same time without using my big (but old) vacuum cleaner.
One quick look at the Amazon product page and you'll see countless happy customers. Some even used words like "life-changing" and "game-changer". There are a few who would tell you to throw away your mop and buy this steam mop/vacuum combo immediately. That's how good this machine is.
Super user-friendly (no assembly required)
This is, without a doubt, the easiest machine I've had to put together. And folks, it's not hyperbole. For those of you who feel intimidated by assembling a machine, this thing is a walk in the park.
I can't even make an installation video because it literally took one click to assemble the entire thing. This Bissell machine came mostly assembled, I just had to snap the body into the base.
The included manual is very useful and necessary. While it was extremely intuitive to put together, most other functions and operation modes are not that intuitive, and glancing at the manual is not a bad idea.
This particular steam mop/vacuum machine comes with an accessory kit that includes 1 washable microfiber soft mop pad and 1 washable microfiber scrubby mop pad. Steam mops with washable pads are great.
In terms of weight, it's very light (weighing 9.74 pounds). It's lightweight compared to a regular vacuum. The best part is, the dust cup easily pops out with a button so you can empty it quickly into the trash.
3. Black and Decker Steam Mop and Vacuum (BDXSMV190G)
Finally, the Black and Decker steam mop and vacuum completes the list. It's a good machine, but there are better products with better build quality. Additionally, you'll have trouble finding the replacement pads.
Good not great
I love the Black and Decker steam mop and vacuum. In just one pass, an area of my floor is clean. It produces a lot of steam while the vacuum packs a good amount of power. You can even hear the steam hissing.
Using this machine, I was able to clean up flower petals and slobbery dog food crumbs in one pass. In the past, I have spent hours vacuuming and then mopping, but this has cut my time significantly.
The entire machine was simple to put together and easy to use. However, I feel like the build quality is not the best. While this steam cleaner and vacuum combo is great, there are better options out there.
Difficulty finding replacement pads
My biggest issue with the steam mop/vacuum is difficulty finding replacement pads. This particular model does not have replacement pads on the company website, so there are no replacements.
Amazon doesn't have any. Google shows nothing. They're advertising this "replacement pad" thing online, yet it appears to be outdated or something since the replacement pads don't exist.
In the end, I've decided to use the Bissell PowerFresh pads on this machine. The pads are not rectangular or triangular (a mix in between). It works okay, but I would rather buy the Bissell steam mop/vacuum.
Final Verdict
| Bissell Symphony Pet Steam Mop and Vacuum | | Black and Decker Steam Mop and Vacuum |
| --- | --- | --- |
| | | |
And there you have it, the best steam cleaner mop with vacuum combo options. Owning a steam mop and vacuum combo will save you so much time because you can do two cleaning jobs at once.
Related articles:
Ryan O'Connor
I write about house cleaning and vacuum cleaners. For me, nothing is more important than a clean environment to ensure both a healthy and happy life. Learn more.