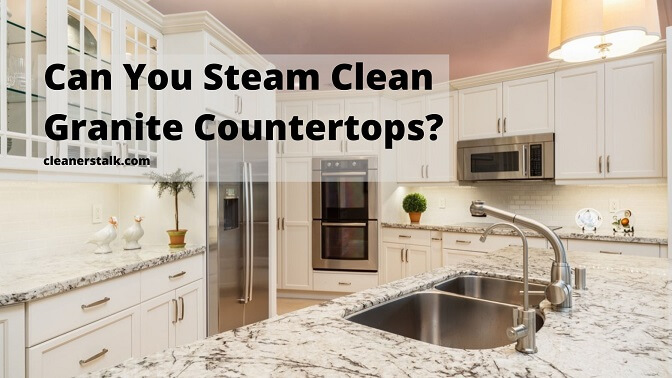 Can You Steam Clean Granite Countertops?
Cleaners Talk is reader-supported. This post contains affiliate links, we may earn a commission at no additional costs to you. As an Amazon Associate we earn from qualifying purchases.
Granite is overwhelmingly the most popular countertop material with 64 percent of homes having it. However, because they come in contact with a lot of spills and messes, granite countertops need frequent cleaning. Because of this, many homeowners are looking for effective cleaning methods, like steam cleaning.
Can you steam clean granite countertops? Steam cleaning is safe for granite countertops. You can steam clean granite countertops because granite resists heat very well, under the condition that it is sealed properly. However, it's best to not let granite countertops get exposed to hot steam for a long time.
Although steam cleaning can clean and disinfect effectively and will not stain your granite countertops, there are several considerations to keep in mind. In this post, we will talk about all you need to understand to best take care of your stylish granite countertops with a steam cleaner. Let us get into it.
The Pros of Granite Countertops
Granite has its own charm and appeal that few other countertop materials can match. From rich earth tones, to vibrant shades of green, to timeless tones of black, gray and white, granite countertops can take your kitchen visuals to the next level. In fact, granite countertops can be the centerpiece of the room.
Although other materials are becoming more popular, granite is still the undisputed favorite of the countertop world. It is by far the most common countertop material used in kitchens today. Because granite is quarried out of the earth, and then sliced into pieces, you will find a lot of variability in the pattern.
This lack of uniformity and natural beauty is one of the main reasons why many homeowners choose granite over other possible countertop material. However, it is important to pick the slab that will be used in your house. If you try to pick granite from a sample, your kitchen may look different from the sample.
Granite is priced in levels. However, paying more for granite does not mean that you are paying for a higher or more durable quality. Think of it as a semi-precious stone: the less of it there is, the more it is going to cost. Some of the more exotic granites you find on the market are more expensive than others.
Now, granite does require a sealer. If you have granite countertops, we recommend you seal it once per year. While there are several sealer options that are warranted for 15 years, they are going to cost you more money. Taking everything into consideration, let us look at how steam cleaners can make your granite shine.
Can You Steam Clean Granite Countertops
Now, while granite is a very hard and strong substance, there are some factors to consider when cleaning them. Chances are, you are aware of the many chemical cleaning solutions in the market today, especially if you deal with messy countertops everyday. This includes cleaning sprays and liquids.
Chemical-based cleaning products may leave a residue, which may lead to stains. Moreover, chemicals may also create a biofilm which traps bacteria on your countertops. This is especially true when granite is not sealed properly. Granite is porous. This means that poorly sealed counters can absorb unwanted liquids.
For the reasons above, we strongly suggest cleaning and disinfecting your countertops, either quartz or granite, with a steam cleaner. Because granite is a very hard substance and is not susceptible to scratches, you can steam clean them safely. This gives you peace of mind from having to worry about contamination.
How to Steam Clean Granite Countertops Properly
Now that you know a thing or two about granite countertops, it is time to talk about how to clean and care for them the right way. Steam cleaning, as surprising as it may be, is one of the most effective methods for cleaning and disinfecting granite countertops. Here is how to steam clean granite countertops properly:
1. Clean Visible Crumbs and Dirt
Before steam cleaning granite countertops, begin by cleaning all visible crumbs and dirt from the area. This ensures a smooth surface for you to work on. Additionally, wipe any visible liquids and messes that are wet with a microfiber cloth. Doing all of the above will create an easier steam cleaning experience.
2. Fill the Steamer with Water
Once your countertop is clear from dirt and crumbs, you need to prepare your steam cleaner. Fill the tank with water and heat it up to the recommended temperature for cleaning kitchen countertops. You can either add a toweling bonnet to the head of the steamer manually or use a steam cleaner with a special attachment.
Nowadays, there are super useful 2-in-1 steam cleaners that can be used as mops as well. They come with a variety of attachments for different purposes. For granite kitchen countertops, we recommend using a handheld steamer with a flat surface tool equipped with a mop pad. It will make the job so much easier.
PRO TIP: Did you know that the right steam cleaner can make your life so much easier? To narrow down your choices, we found the ultimate steam cleaner/mop for cleaning kitchens and countertops. It comes with seven different attachments for a variety of uses. You can check this amazing product on Amazon right here.
3. Start Steaming
Before you start steaming, hold the machine over a sink and turn it on to allow any excess water to run off. After you turn it on, several models may create hot dry steam. Nevertheless, newer and updated steamer models, like this one, can steam on command and will not spout hot steam dangerously.
Start steam mopping your granite countertops thoroughly. It is best to go in one direction. If your granite countertops are especially messy, it is best to replace the mop pad or cloth in between the cleaning session. Rest assured, if you apply the right amount of steam and pressure, dirt and grime will be removed completely.
4. Dry the Granite Countertops
Once you are done steam cleaning, let the granite countertops to completely dry. Wipe the surface thoroughly with a dry microfiber cloth. It is paramount to not leave any leftover moisture as granite may absorb liquids, making them harder to remove. Once everything is dry, your granite countertops should look like new.
Reminder: Seal Granite Regularly
While granite is a countertop material known for its strength and durability, it does not mean it is perfect. Granite is a porous material, therefore, without a high-quality sealant, it may absorb spills and stains. Together with frequent cleaning, it is important to make sure the sealant on your granite is in tip top shape.
To check the quality of any granite sealant, drop a few water droplets on the granite and observe it for five to ten minutes. The sealant passes the test if the water beads up. However, if some or all of the water soaks in, it is a telltale sign that the sealant is low quality. You may need to get the granite resealed.
Bottom Line
And there you have it, the answer to the question: can you steam clean granite countertops? When it comes to steaming granite countertops, you have nothing to worry about because granite is heat-resistant. However, it is important to make sure the granite is sealed properly and regularly to maintain its durability.