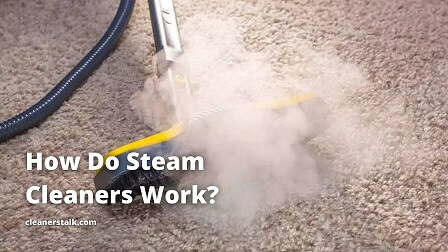 How Do Steam Cleaners Work? All You Need to Know
Cleaners Talk is reader-supported. This post contains affiliate links, we may earn a commission at no additional costs to you. As an Amazon Associate we earn from qualifying purchases.
Fox News reported that steam cleaners are growing rapidly in popularity. But how does steam cleaning work? And is steam cleaning really effective? As more people look for non-chemical cleaning solutions, steam cleaners are proven to be more effective than a traditional vacuum for cleaning floors.
How do steam cleaners work? Steam cleaners work by heating water past the boiling point which creates low-moisture vapor. This pressurized steam is then forced out of a nozzle, brush, or other attachment, where the vapor loosens dirt and kills bacteria. No suction is needed as high-heat moisture dries quickly.
Today, there are a variety of steam cleaning machines for both households and commercial use. Best of all, steam cleaners are not just used on floors, but are effective for other cleaning purposes as well. What you can steam may surprise you. In this post, let's examine how steam cleaners work.
What is a 'Vapor' Steam Cleaner?
A steam cleaner is an appliance that uses steam to clean, sanitize, and deodorize virtually any surface without the use of chemicals. The steam is produced in a boiler by heating up water to 240°-310° F. or by a "flash" heating system. It is then converted to low-pressure, low-moisture water vapor, with as little as 4-6% water.
Because so little water is consumed, it creates virtually no mess. The vapor system is also very quiet and portable, allowing for use anytime and anywhere. Moreover, the heat from the vapor is hot enough to disinfect harmful particles. These machines produce dry vapor steam that can loosen and remove:
Allergens
Bacteria
Dirt
Pet dander
Stains
Virus pathogens
Steam cleaners effectively clean and sanitize both hard and soft surfaces. Additionally, they come in a variety of models to suit different cleaning needs. Depending on the surface you wish to clean, you may want to use a specific type of steam cleaner. The different types of steam cleaners include:
Handheld Steam Cleaner: These are portable cleaners which are great for cleaning smaller areas, hard to reach areas and even clothes.
Steam Mops: Similar to a stick vacuum cleaner, steam mops are the perfect tools for mopping hard floors.
Canister Steam Cleaners: These personal steam cleaners work on multiple surfaces and come with different cleaning attachments.
Industrial Steam Cleaners: Used by professional cleaners, these large capacity steam cleaners clean whole house areas for a deeper clean.
All of the above steam cleaners work similarly. Steam cleaners are frequently used in hypoallergenic environments because they do not need additional cleaning chemicals, which results in better indoor air quality and removes the need for cleaning agents. So, steam cleaning is an eco-friendly way of cleaning.
How Do Steam Cleaners Work?
To better understand how steam cleaners work, let's go over the components of what make a steam cleaner unit. A steam cleaner has many essential components to create steam that can clean carpets and tile. While different models may vary in shape, most have similar parts. The main components of a steam cleaner are:
A Boiler
Water Tank
Refill Water Tank
Detergent Compartment
Steam Vacuum
Attachments and Brushes
Depending on the model, the steamer may or may not include a vacuum. If the steam cleaner you are using doesn't have a built-in vacuum, you'll want to vacuum or sweep your floor to remove any left behind dirt or grime. Here is a breakdown of how steam cleaners work in four simple steps:
How Steam Cleaners Work in 4 Steps:
1. The Boiler Heats the Water.
Once a steam cleaner is plugged into an electrical socket, the boiler heats the water to 360°F within the tank. The tank runs on low pressure of up to 150 psi to maximize steam output. The steam mixes with the detergent (if any) in the detergent compartment for added sanitation and stain removal.
2. The Steam Cleaner Uses Pressure to Concentrate Steam Vapor.
The steam vapor permeates the carpet or hard surfaces and loosens dirt and other stubborn stains. Then, the steam cleaner applies pressure to clean and remove allergens and pathogens. Steam cleaning has been found to be more effective and efficient than regular methods of cleaning.
In fact, a study done by The National Center for Biotechnology Information found that using a steam cleaner with a vacuum significantly reduced dust mites and allergens up to 40% better than using a vacuum alone. If you are an allergy sufferer, you may want to consider incorporating steam cleaning into your cleaning routine.
3. The Steam and Vacuum Remove Dirt, Grime, and Allergens.
Some steam cleaners use a steam vacuum to remove dirt and grime while the steamer runs. The refill tank is non-pressurized, allowing users to add more water to the steam cleaner while it is in use. Industrial steam cleaners have a direct water feed, which refills the steamer while it's running automatically.
4. The Dry Vapor Evaporates and Dries Quickly.
One of the benefits of steam cleaning is how quickly the surface dries and evaporates after cleaning. Because steam cleaners use dry vapor technology, the surfaces have minimal moisture. This allows surfaces to dry almost immediately after being steamed, reducing the risk of mold and mildew.
PRO TIP: Have you ever wondered where the dirt goes when you steam clean? Because many new steam cleaner users ask us this question, we've decided to create a simple and easy-to-understand post with beginners in mind about the topic. If you are curious, you can read our article right here.
What Can You Clean Using a Steam Cleaner?
Steam cleaners are primarily used to clean carpets and hard flooring, however, you can also use them to clean many things. In fact, the University of Washington tested a steam vapor system in restrooms and reported labor hygienic improvements over previous methods. You can use steam cleaners to clean:
Automotive: Deep cleans and freshens automotive parts including fabrics, vinyl, leather and cloth. It can also clean hard to reach places including dashboards, vents, armrests, and cup holders. Removes wax and other compounds from chrome, moldings, and bumpers.
Bathrooms: Cleans porcelain, sinks, shower doors, tile, grout, mirrors, tubs, and even the toilet.
Flooring: Cleans sealed wood flooring, tile, linoleum, grout, carpet, and vinyl. Be careful not to leave it on one spot on the floor for too long because the high temperatures can possibly burn the flooring. Do NOT use steam cleaners on any unsealed flooring.
Industrial Kitchens: Cleans and sanitizes food service and preparation areas.
Kitchen: Cleans stainless steel appliances and surfaces without the use of special chemical polishing agents, dissolves greases on ovens, stove tops and burners with ease, restores shine and removes wax build-up, and can clean refrigerators, countertops, freezers, coolers, and microwaves.
Living Room/Bedrooms: Upholstered furniture, mattresses, blinds, and curtains. It can also be used to disinfect and sterilize children's toys so germs aren't redistributed.
Others: Cleans patio furniture, grills, and lawn mowers. It can also polish jewelry, kill weeds in the patio, and clean away algae from swimming pools, as well as be used as a defroster. Steam cleaners work well to clean pet cages, disinfect litter boxes, and remove pet stains and odors.
As you can see in the list above, steam cleaners are very versatile and can be used in a number of ways. Those are just some of the things you can clean by using a steam cleaner. Nevertheless, while there are lots of uses for a steam cleaner, there are some things you should not steam clean.
What You Shouldn't Clean with a Steam Cleaner
While steam cleaners are very effective, there are some things you should avoid steaming:
Unsealed, polished, freshly-painted, or waxed surfaces can be damaged by steam.
Walls may strip paint if there is excessive heat applied.
Delicate fabrics can bleed or be damaged by extreme heat.
Treated wood, cardboard, plywood, and paper will warp from prolonged exposure to steam.
Antiques with shellac or varnish coating can strip from moisture and heat.
Laminate flooring can warp or peel with high-pressure steam.
PRO TIP: Steam cleaning generates a lot of heat. If you are unsure about an area or item you want to steam clean, it's wise to test a small area first to see if it can handle the steam. Do proper research on how to properly clean a specific item to make sure that it will not be damaged when you steam it.
Are Steam Cleaners Effective?
Because a clean house is very important, many ask the question: is steam cleaning really effective? Surprisingly, steam cleaners are very effective and efficient when it comes to cleaning. Because steam cleaning is, bar none, the most effective way to deep clean surfaces, homeowners can:
Remove stubborn stains and build up.
Enjoy clean, sanitized carpets, and hard surfaces.
Kills mites and other bacteria.
Extend the life of their carpet and flooring.
Restore their flooring to look like new.
Improve air quality from reduced dust and allergens.
Sterilize pollutants in carpets and rugs.
Disinfect naturally without using chemicals.
Without a doubt, steam cleaning is one of the most effective cleaning methods. Nonetheless, while using a steam cleaner is very beneficial, it's best to sweep and vacuum before using your steamer. Not only does this provide a deeper clean, but it will also extend the life of your steamer as well.
Drawbacks to Stream Cleaners
So, are there any drawbacks of using a steam cleaner? While steam cleaners are excellent and effective tools to keep your house clean, there are a few drawbacks to using a steam cleaner. Fortunately, the negatives are very few and far between. The two drawbacks to steam cleaners include:
1. Steam cleaners are extremely hot.
When using a steam cleaner, individuals should be well acquainted with the machine and be careful not to scald their skin if the steamer is too hot. Keep small children away from the steam cleaner while it is in use. Additionally, steam cleaners may damage flooring because of the heat if left unattended for too long.
2. Steam cleaners can be expensive.
Whether you are buying a household steam cleaner or paying a commercial cleaner, both can be very expensive. The average price of a household steam cleaner is $150. High-quality models can run $300-$500. If you ever consider buying a steam cleaner, consider it an investment for your house.
Final Verdict
And there you have it, a simple post to answer the question: how do steam cleaners work? Not only are they environmentally friendly, but steam cleaners are also the most effective at cleaning and sanitizing flooring and items. Steam cleaners can eliminate odors, dirt, stains, and built-up grime.
By using a steam cleaner, you will extend the life of your flooring. If you can't afford a household steam cleaner, consider an annual commercial steam cleaning service. Rest assured, steam cleaning is a safe and chemical-free solution for your home or office. Here's to a cleaner and healthier house. 🙂
Related articles: