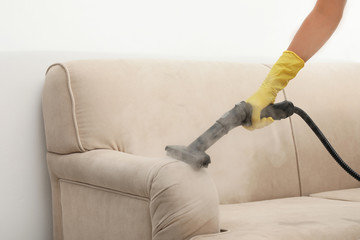 How to Steam Clean Upholstery Correctly in 6 Steps
Cleaners Talk is reader-supported. This post contains affiliate links, we may earn a commission at no additional costs to you. As an Amazon Associate we earn from qualifying purchases.
Upholstered furniture is often gorgeous, but it can also be a magnet for odors, pet stains, and dirt. And unfortunately, it's not always easy to get the grime out of upholstered chairs and couches.
That's where the power of steam comes into play. Steam cleaning your upholstery is a great way to remove stubborn stains, dirt marks, and foul odors. Steam can even kill unwanted pests like dust mites.
So, steam cleaning your upholstery is a great idea. That said, learning how to steam clean your upholstery isn't as simple as you might think. There are things you need to do before you start using steam for the best results. And there's a technique to steam cleaning that you don't want to mess up.
Below, we cover all the steps you need to take to steam clean your upholstery the right way.
1. Ready Your Upholstery
Before you begin to steam clean your upholstery, there are a few steps you need to take. First, ensure that your upholstery is safe to steam clean. You can do this by checking for the piece's fabric cleaning code.
The cleaning code will be somewhere on the furniture's tag and should read "SW." SW means the fabric is water and solvent-friendly. So, you can use various cleaning solvents and steam to get the upholstery clean.
If there's an "X" on the furniture's tag, you shouldn't steam clean or use any sort of cleaning product on it. Doing so could ruin the upholstery! If you have an "X," you'll need to call a professional to have it cleaned.
Assuming there's an "SW" on the tag, you're good to go and continue with the preparation steps below.
Vacuum
Before reaching for your steam cleaner, you should vacuum your upholstery.
Vacuuming will pick up pet hair, food crumbs, loose dirt, and other bits that could create bigger messes when you add steam. Just imagine what would happen if you left a bit of chocolate chip cookie crumb on the couch before you steamed it — you'd have a melted chocolate stain instead of a clean couch cushion!
Remember, vacuuming is essential, and you should take your time doing it. Aim to get in every crack and crevice, picking up as much loose dirt as possible. Otherwise, you'd run the risk of making more mess.
If the furniture you're cleaning has loose cushions, remove each one and vacuum all sides of it. You'll also want to vacuum the back and sides of the furniture if they're covered in upholstery.
Pre-Treat Minor Stains
While vacuuming, you may come across a few minor stains.
If any of them are oil-based, you should try and treat them before using steam. Non-oil-based stains from food, urine, or dirt shouldn't need pre-treatment and will come out with steam alone.
You'll want to be very careful when treating stains on upholstery. Using the wrong product or technique can leave you with an extra-light blotch on your fabric that stands out more than the stain did!
So, read the manufacturer's label carefully to determine what cleaning products are safe for that particular fabric. And test any cleaning product you choose to use, including homemade solutions, on an inconspicuous area first. With minor stains, trying a homemade solution is a good place to start.
A mixture of white vinegar, baking soda, sodium lauryl sulfate, and water works well on most minor upholstery stains and is better for the environment than many commercial cleaners.
If you choose to use it, don't scrub too hard, as that could damage the fabric.
Dealing with Set-In Stains
Sometimes, stains are set in and don't respond to mild, homemade concoctions. At that point, you'll need to invest in a heavy-duty pretreatment. Beware that heavy-duty cleaners often contain toxic chemicals.
Be careful using them around pets and children. Follow all manufacturer instructions when using them, and again, be sure to test them in an inconspicuous area first.
Condition the Fabric
After dealing with obvious stains, you'll want to condition the upholstery. Conditioning the fabric with a soil emulsifier will keep it from turning gritty after you steam it by loosening any ground dirt.
Spray the emulsifier all over the upholstery, ensuring you saturate every crack and crevice. Let it sit for a few minutes, and then apply a small amount of fabric shampoo. Rub the shampoo in with a clean cloth and leave it on. When you steam clean, you'll remove the shampoo and emulsifier, so there's no need to wipe it off.
2. Pick Proper Tools
Once you vacuum, deal with any obvious stains, and apply a conditioner, you're ready to steam clean! Of course, you'll need to pick the right steam cleaner first. Steam cleaners come in all sorts of shapes and sizes.
Some of them are multi-purpose and have attachments for upholstery. Others are single-use tools that may work well on your floors or grout but may not handle upholstery well.
Make sure the one you pick is specifically for upholstery or has an upholstery brush attachment. One of the best steam-cleaning tools we recommend for upholstery is the Bissell SpotClean ProHeat.
Though investing in one isn't a bad idea, you could also save money and rent one from your local home improvement store. Typically, home improvement stores will rent them by the hour for a nominal fee. And, a rented steamer will likely be more powerful than the handheld one you would have purchased for the job.
Prepare Your Steam Cleaner
Most steam cleaners work with water alone, which is great! You won't have to add any chemicals or soaps to your cleaner. Simply add tap or distilled water, and you're ready to go!
Some steam cleaners use a cleaning solution with steam to get your upholstery spotless. For those, you'll need to follow the manufacturer's instructions on how much and what type of solution to add.
Be sure not to add any extra cleaning solution inside the steamer in hopes of a better result. Doing so could damage both the steam cleaning machine and the fabric you're trying to clean.
Also, be sure to use the recommended attachment for fabric or upholstery. It will probably be some sort of brush attachment, but refer to your cleaner's manual to be sure.
3. Start Steam Cleaning
At this point, you're ready to start steam cleaning your upholstery. Though steam cleaning is a straightforward process, it helps to know what part of the furniture to do and when. So, let's walk through it step-by-step.
Start With Cushions
If your furniture has any removable cushions, take them off and start there.
Plug your cleaner in and look for the steam button. This should release the steam. Then, run the machine opening over where you released the steam to pick up excess water, cleaner, and, of course, any dirt.
If there's a particularly soiled area, don't keep the steam on it for longer.
Instead, make more swift passes over the spot. Holding the steamer over one spot for a long time can create water spots on the fabric and won't make it easier to get out the grime.
You may want to steam clean the side of the cushions that people will see. If you plan to steam clean the entire cushion, you'll want to start with one side and then let it dry before moving to the other side. Otherwise, you risk inviting mold as a saturated cushion will take a long time to completely dry.
Continue Cleaning Everything Else
Once the cushions are complete, you can move on to the rest of the upholstery. Use the same technique that you did with the cushions, spraying steam and then making swift passes to collect excess water and dirt.
Work in small sections. Trying to cover too broad of an area can cause problems. Steam will soak into the space you started with before you can pass back over with the machine to pick up excess moisture. This can create watermarks or lead to mold growth later. At the very least, it will lengthen the dry time.
If an area is particularly dirty, you can go back over it with the steamer. You don't need to wait for it to dry, but again, use the same technique: apply steam and then make swift passes with the machine.
Let Dry
The final step is to let your upholstery dry. Dry time is dependent on the size of the furniture and the conditions in your home. If it's humid, drying will take significantly longer than if you live in a dry area.
To make drying faster, you can try opening the windows, assuming the weather is suitable. This can increase airflow, which helps the fabric to dry. You can also place a fan in front of the furniture or cushions.
Know that drying can take a long time, and you shouldn't steam clean upholstery that you plan to utilize that day. While the fabric is drying, make sure the doors to the room are open and avoid covering the damp material with towels or sheets to make it usable. Doing so will encourage mold growth.
4. Cleaning Extra Stubborn Stains
Sometimes, you finish steam cleaning only to find that a few stubborn stains didn't come out. While this is unfortunate, it doesn't mean you have to live with the stains. There are other things you can try.
At the very least, the steam may have loosened the stain, so you can try a few simple, homemade stain applications to get rid of it completely.
Start by trying dish soap and water. Create a solution of warm water with a few drops of dish soap. Soak a rag in it, and then use the rag to blot out the stain. Don't scrub, as that can ruin the fabric.
If that doesn't work, try using water mixed with a couple of teaspoons of white vinegar or apple cider vinegar. Vinegar works especially well if the stain comes from grease, oil, or pet urine.
If none of the homemade solutions work, you can check your local home improvement store for a hard-core upholstery stain remover. Know, however, that these stain removers should be a last resort. They're full of harsh chemicals and can be dangerous around kids or pets.
Just remember, before using an upholstery stain remover, be sure to read the label in full and follow the directions completely. Otherwise, you risk ruining your furniture or upholstery.
5. Protect Upholstery From Future Stains
Upholstered furniture is meant to be enjoyed, not wrapped in plastic like a museum artifact. But, after you go through all the work of steam cleaning and treating stains, you might feel like you want to cover your furniture to protect it rather than risk more dirt and stains.
Instead of a plastic sheet or an ill-fitting fabric cover, try using an upholstery protectant. A simple fabric protector spray once per year can keep stains and dirt from sticking to your upholstered furniture.
You should also add vacuuming your upholstery to your weekly chore list. That will keep dirt from accumulating, and you won't have to deep clean it as often.
Finally, consider keeping stain removers handy so you can take care of stains before they set. An enzymatic cleaner is ideal for houses with pets, but common household items like vinegar can work in a pinch.
If you can catch a urine or food stain right after the accident occurs, you can prevent stains from setting on your upholstery. In fact, you probably won't have to use a more powerful stain remover later on.
6. Enjoy Your Clean Upholstery!
Now that your upholstery is free of odors, pests, and stains, you can enjoy it! Cuddle up on your now clean couch, or snuggle into your favorite odor-free chair. Invite guests over without embarrassment, and rest assured that there aren't any dust mites lingering in the crevices of your furniture.
By preparing your furniture correctly, using the right technique, and applying a protectant to prevent future stains, you're sure to have perfectly clean upholstery. So sit back, relax, and enjoy it, maybe with a cup of coffee, a cookie, or a glass of wine. After all, you've earned it. Just try not to spill or leave crumbs behind!
Related articles: